This minigame is permanently unavailable.
Reason: Removed from server (no additional explanation given)
Successor: Castle Siege (2014)
Date: August 2013
For the successor, see Castle Siege 2.0.
Castle Siege

The official logo for Castle Siege.
Minigame Type
Unknown
Status
Removed
Teams
Team minigame
PvP
PvP minigame
Official Release Date
May 24th, 2013
Date of Removal
August 2013
Number of Players
Unknown
Game/Statistics Menu Icon
Unknown
Portal Representation
Unknown
Server Tag
Unknown
Castle Siege is a Removed minigame on Mineplex and the first minigame to be released on the server, on May 24th, 2013. In a fully destructible environment, teams had to "siege" their opponent's castle by pressing a button in the latter's location, then preventing them from stopping the siege. Alternatively, depending on the gamemode, teams had to be the first to reach 30 cumulative kills, or use bows that could instantly kill an enemy player.
The game was split into two teams. At the beginning of the game, players are sent to a kit room to select a kit. Then players are teleported to a starting platform. Once the game starts players run off the platform and grab items from the chests in front of their castles. The chests restock after 60 seconds. Almost all blocks can be broken or blown up with TNT. All gamemodes have a 15 minute time limit.
Classic Mode: Each team has a castle with a button inside. When the button is pressed by the opposite team, a countdown starts. If the team which owns that castle does not press the button within 20 seconds, the team which is "seiging" the castle (the one who pressed the button originally) wins. All kits can be used.
TDM Mode: The first team to reach 30 kills wins the game. Button pressing does nothing. All kits can be used.
OITQ Mode: Basically the current 'One in the Quiver' gamemode which is on Mineplex. One bow hit will instantly kill an enemy player, giving you one arrow. The holy clave of death is a stick with sharpness one, used to kill enemies if you do not have any more arrows. Arrows can be picked up if missed. No kits can be used.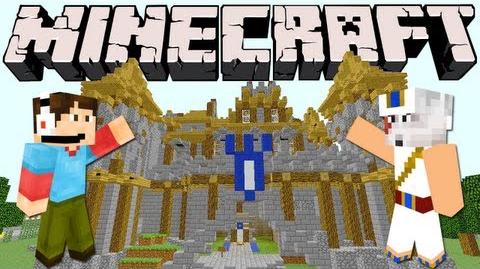 Type

Bacon Brawl • Bomb Lobbers • Death Tag • Dragon Escape • Dragons • Evolution 2.0 • Gladiators • Micro Battle • Mixed Arcade • Monster Maze • One in the Quiver • Runner • Sheep Quest • Snake • Super Paintball • Super Spleef • Turf Wars

Block Hunt • Draw My Thing • Master Builders • Mine-Strike • Speed Builders • Super Smash Mobs

Alien Invasion (2017) • Battle Royale (2017) • Christmas Chaos (2013-2016) • Christmas Chaos 2.0 (2017) • Snow Fight (2015) • Snow Fight (2016) • Snow Fight (2017) • Halloween Horror (2013-2015, 2017) • Pumpkin's Revenge (2016-2017) • Valentine's Vendetta (2016) • Halloween Havoc (2018) • Rose Rush (2019)

Castle Siege 2.0 • Christmas Chaos 2.0 • Death Tag • Dominate 2.0 • Dragon Escape • Evolution 2.0 • Gravity 2.0 • Nano Games • Pumpkin's Revenge • Squid Shooter 2.0 • Snow Fight 2.0 • Snow Fight 3.0 • Tug of Wool 2.0

Status




Castle Assault • Castle Siege 2.0 • Dragon Escape Teams • Dragons Teams • Heroes of Gwen • Milk the Cow • One in the Quiver Teams • Skyfall • Sneaky Assassins • Snow Fight 3.0 • Super Spleef Teams • Team Deathmatch • Wither Assault

A Barbarian's Life • Bawk Bawk Battles • Castle Assault TDM • Castle Siege • Dominate • Evolution • Gravity • Gravity 2.0 • Mavericks Basketball • Mavericks Master Builders • Minekart • Mineplex Competitive League • MineWare • One in the Quiver: Payload • Search and Destroy • Speed Ultra Hardcore • Speed Ultra Hardcore Solo • Super Smash Mobs Domination • Squid Shooter • Strike Games • Tug of Wool • Type Wars • Ultra Hardcore • Ultra Hardcore Solo • Undead Escape • Weekend Brawl • Wizards • Zombie Survival

Boss Battles • Bouncy Balls • Champions Mob Arena • Craft Against Humanity • Crush the Crystal • Dragon Riders • Elytra Rings • Hole in the Wall • Horseback • MineWare 2.0 • Monster League • Super Stacker • Slime Suckers

Type

Heroes of Gwen Training • Mineplex Event • Super Smash Mobs Training

Related
Type

Death Tag • Dragons • Master Builders • Micro Battle • Turf Wars

Intermediate

Block Hunt • Cake Wars • Speed Builders • Survival Games • SkyWars

Bomb Lobbers • Dragon Escape • Gladiators • One in the Quiver

Status

Type