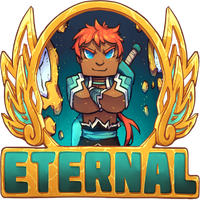 Eternal Rank, also simply known as Eternal is Mineplex's fifth rank that has been added to the store and was found in Holiday Thanksgiving Chickens. It was available to Power Play Club members 1 week before it was released to the public for testing purposes. As stated in the initial announcement, there are still more features to come, however, none have been released as of 2020. Eternal is currently the second-highest paid rank, above Ultra, Hero, Legend and Titan; with only Immortal having more perks.
Current features

Join full servers and lobbies
Ability to create Mineplex Player Servers with a maximum player capacity of 80 players
3-second chat delay removed
Dark aqua-colored forum tag
Ability to create a community
Ability to /report players
Ability to use /chatsnap
Shop Prices
Trivia
All ranks above Eternal have access to the Eternal monthly bonus. This includes Content creators, staff members etc.