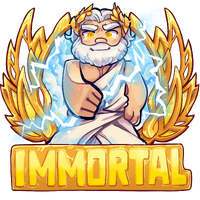 Immortal Rank (also simply known as Immortal) is Mineplex's sixth rank that was released on February 9, 2020. It serves as a rebranding of the Power Play Club, and is the only subscription rank. As such, it is only a temporary rank, which can expire once the monthly payments end. Immortal is currently the highest paid rank, above Ultra, Hero, Legend, Titan and Eternal.
Features
Overview
All Eternal perks, as following:

Join full servers and lobbies
Ability to create Mineplex Player Servers with a maximum player capacity of 80 players
Ability to create a community
Ability to /report players
Ability to use /chatsnap
Monthly bonus (1 Omega Chest, 2 Illuminated Chests, & 2 Mythical Chests)

400% Shard Bonus (effectively Quintuple Shards)
100% Gem Bonus (effectively Double Gems)
Party size increased to 32
Exclusive monthly cosmetics
Skin change system
Join Message broadcasted in Lobby
Flight in Hub and Anti Velocity preferences
First-person spectating
Stacker minigame in Hub
Animated forum tag
Unique Discord tag
2 exclusive Diamond Sword Names (Excalibur, Rainbow Road)

Icon Prefixes

/Symbols
Colored Chat (supports all color codes)
Additional monthly bonus (separate from the Eternal bonus):
Skin Change System
To change your skin, you need to click the head on your inventory.
Shop Prices
| Subscription duration | Price | Price per Month |
| --- | --- | --- |
| 1 month | $6.99 | $6.99 |
| 3 months | $18.99 | $6.33 |
| 6 months | $36.99 | $6.17 |
| 1 year | $69.99 | $5.83 |
Monthly Cosmetics
TBD
Gallery
TBD
Community feedback
TBD
History
TBD
Trivia
All Content creators (YT Rank, YouTube Rank, Streams Rank) and Quality Assurance members have access to the Immortal perks, however, they do not receive the monthly bonuses automatically.

Unlike with previous ranks, staff members and above do not have access to the Immortal perks.

Although the shop mentions a 200% Gem Bonus and a 300% Shard Bonus, both values are incorrect. This might be a bug.