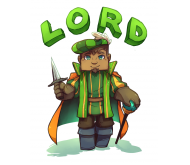 The Lord Rank, also simply known as Lord, is a premium rank that was made available on the Mineplex Pocket Edition server on January 3rd, 2017. Lord costs 1690 Minecoins or $9.99 for a lifetime purchase. Lord has the same perks as the Knight Rank, and more. The Lord rank also a female alternative: the Lady rank which shares the same rank benefits.
Current Benefits (Not Including Knight Benefits)
All Member benefits
Lime Lord Tag

Monthly bonus of 3 Royal Crates
Lords gain an additional 100% Treasure Shard Bonus at the end of a game
Exclusive Warrior Pet
Exclusive Golden Cascade Particles
Exclusive Lordly Leap Double Jump
Exclusive Gilded Arrows Arrow Trail
Exclusive Royal Boots, Leggings, and Cloak Costume
Increased max party size to 12 More people, more fun!