It's that time of the year again! While it's getting colder outside as a thin layer of snow is starting to appear (or not), we welcome you back to a new edition of our newsletter! Since it has been a while since the last one, quite a lot happened over the past few months. But firstly, we hope that you made it through this tough year safely and healthily!
Winter season is always exciting, with all the celebrations coming with it! It is also a great time to play on Mineplex with the return of the advent calendar, the Christmas-themed lobby, the seasonal games, chests and cosmetics! We hope you had a nice time checking out Christmas Chaos, or had a nostalgic time playing Castle Siege! As 2021 is right around the corner, or maybe even there already when you read this newsletter, we wish you a happy new year!
In the meantime we have plenty of new exciting updates and information on the projects we have been working on! There is also a lot of cool stuff planned, so get ready for that. Just grab a hot chocolate, find a seat next to the chimney and make yourself comfortable, we hope you have a nice read!
Year in Review
Dang, it feels like it was yesterday when we've written the last year recap. Fortunately though, this mess of a year is coming to a close, and we'd like to take a look at some of the most major changes throughout 2020.

As you might've guessed, Mineplex has seen a massive increase in players this year; and with that, we have also noticed a much larger number of visitors than usual. With that in mind, we've decided to put our focus on cleaning up some back-end issues that have been piling up for a while.
Most importantly, the Mineplex Wiki completed its move to the new Discussions feature. Over at https://mineplex.fandom.com/f, you are now able to talk about whatever your heart desires. The staff team has decided to maintain its community policy for this feature as well, meaning that you will be able to talk freely about anything related to Mineplex, as long as common sense is respected.
Instead of discussions, you can also choose to post a poll, a question or your spicy take on why Gravity is a bad game (although that's the most unpopular opinion I've heard to date). Feel free to give it a try anytime! The only drawback to the new system is that we are no longer notified about new posts, so if you have a question for staff members, please make sure to mention one of us with @username or simply ask on our message walls.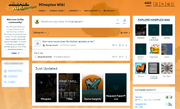 While all of this may sound very exciting, Discussions are not a completely new feature – they serve to replace our forums we had previously. Unfortunately, they come with several disadvantages for all of you forum fanatics out there (namely poor layout options, a messy UI and others), but we have had to make the transition to make sure future updates are supported for our Wiki.
That said, we have also decided to post these newsletters on a separate page from now on. Not only does this allow for much more room for creativity and design options, we are also able to continue using them in the old-fashioned way you might be used to. Woo!
You might have already noticed that not everything about this issue is old-fashioned though. We've wanted to play around with new layouts for some time now, and this is the first of our "experiments", if you will. Instead of focusing on 3 major sections like we did in the past, we have decided to move the spotlight onto select topics. This is in an attempt to make sure that the final result of our witchery and magic (the newsletter you are looking at right now, dear reader) has more room for variation.
Unfortunately, this means that we will be discontinuing our "Featured Contributor" programme for the time being (though there's a good chance of it returning in the future). For now, even if we no longer mention each contribution in these newsletters, know that we are still incredibly thankful if you decide to make an edit to any of our articles.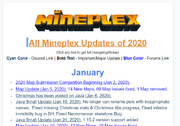 If you have been living under a rock for this past year, bless you. However, you might also be wondering what might have changed on Mineplex over the past 12 months. Tell you what, we know what you're looking for: The Year in Review document by Mineplex staff member Evgeen! Over here, you will be able to discover all of the updates the server has seen this year. While some of the changes have already been added to the Wiki, others have yet to be documented (especially on the Bedrock side of things). Feel free to start editing if you notice anything is missing ;)
Last but not least, the Wiki has also seen a number of staff applications being submitted this year. We thank each and every one of you for applying! As of a few months ago, we have chosen to invite Seqv to our team. He has joined our team as a Content Moderator back in September, so there is a good chance you've already seen his shiny red name around. Here are a few words from him:
Hi! I'm Seqv, and I've been a member of the Mineplex community for 7 years now. I've always been interested in contributing to the Mineplex community and the network itself. I've been editing different pages every now and then for eight months, and when Nicodami offered me a content moderator position in the wiki, I just had to accept it. My favourite game in Mineplex is probably Speed Builders or Nano Games, but I am more of a casual player, so you'll probably see me outside of those games as well. If you want to play anything with me, just message me, I don't bite :)
After assisting Nicolas and me over the last couple of months already, Seqv has decided to request a promotion to the Admin position. As is tradition and common practice on this Wiki, we would like to give everyone a chance to make their voice heard when it comes to staff team changes. With that said, if you would like to leave your two cents:
Be sure to read his request over here
Leave a comment below the application form, including any questions you have for the applicant or
Take part in the vote below:
Note that while the poll will be taken into account while making a final decision, comments will be prioritized.
A glimpse of our Community Management collab
One of our largest projects over the last couple of years has gone unannounced for quite some time. While the details are yet to be worked out, we thought it's about time for us to share some of the dark secrets behind our collab. SpoOooOkY!
Previously, we have shared our concerns that the staff team is no longer as active as before, for various reasons. This has led to a significant decrease of activity around the Wiki, and with that, a growing number of unmaintained and outdated articles. While we would like to tackle these issues on our own, the truth is that a three-man team is not able to keep up with the sheer size of this page, let alone all the behind-the-scenes tasks like moderation, keeping the site running et cetera.
For the longest time, our solution has simply been to advertise the Wiki while looking for potential new editors, and opening staff positions (speaking of, a bird told me there are some cookies hidden over here: Mineplex Wiki:Staff application). However, we would like to continue looking for new avenues for drawing attention to this page, to bring it back to full steam like it once was. This is where the CoM collaboration kicks in!
Together with the Community Managers, we are currently looking into ways to making the Wiki as a whole more accessible for all community members. This could be done through a number of ways, such as officializing the Wiki to work together directly with Mineplex's Leadership team, looking into occasional promotions through Social Media channels and other Mineplex areas, or even opening a completely new community subteam to increase interest in the Wiki and recruiting new editors.
Now, please keep in mind that what we've shared today is only a small part of what's to come. None of this is set in stone yet, and we will continue to work on this until we're confident with the final result. Stay tuned for more updates (:
Content changes
In recent months, many dedicated editors of the wiki have spent lots of time ensuring that the wiki stays a reputable source of knowledge for the server. For today, we wanted to take a look at one of the most notable content changes of the last few months.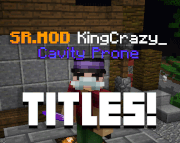 The Titles page was edited over 25 times in the last few months, and many changes have been made. Over 20 different titles were added, Cosmetic titles were merged into the page, and the old cosmetic titles page was deleted. Images of the titles were added to the page to give a viewer a better idea of how the titles looked like. However, the images might be removed in the future, if a solution is found on how to display the titles accurately without images. Currently, the page might take a while to load on slower devices.
If you have any feedback about the changes, be sure to drop a comment on our Discord or over here.
Staff updates
In case the application page has ever piqued your interest, you might have noticed that we had an almost confusing number of positions available. We continued to make the application process more transparent and easier to access for all of you, and with that, we have updated the staff member requirements!
If you're looking for a quick TL;DR, this is for you:
We have added a new "Moderator" position, effectively merging the previous "Chat Moderator" and "Content Moderator" roles.

This is due to the fact that the Wiki chat feature will be removed in the near future, therefore eliminating the need for moderators solely focused on Chats.

To give newer applicants a fair chance at requests for promotion, we will begin to be more lenient in terms of activity requirements, especially regarding the amount of edits required.

Remember that this will only be relevant in exceptional instances – if you plan on applying, we highly recommend you to gather enough experience around the Wiki and its diverse array of articles first.
For the Moderator position, we will continue to express leniency if you do not feel familiar with the Wiki editing tools yet – this is completely fair, and you will get to know more and more during your stay as a staff member!

We are planning to abolish the community vote requirement for the Administrator position. Should you be unaware, we have a policy in place which requires a community poll for each and every single Administrator position, to make sure your opinion on each candidate is heard. To allow for more flexibility within the recruitment process, we would like to remove this requirement (however, it will continue to stay in place for the Bureaucrat position).
Since one might argue this is quite a major change, we would like to give you the option to cast your vote on this change. Please see the poll below:
If you've ever been interested in joining the staff team, know that there's no need to hesitate. You can always apply through the form found here!
Community Survey
Since we all love polls so much, why not keep going like this? ;)
In case you have read some of our newsletters in the past, you might know that we usually release a large survey for our community at the start of every year in order to gauge your opinion. While some questions may look familiar to you, others are certainly different this year. We're excited to hear what you think, and will evaluate your feedback and all of the results to make changes accordingly.
Rules
Our community policy page hasn't changed in quite a while. For the past few years, the set of rules we established against vandalism and various other offences, with the severities coming along with it, has worked for us. However, we would like to know your opinion on it!
Dark mode
So far the wiki default theme has always been light, except during seasonal events (eg: Halloween). While it may look more professional as it leans towards the clean wikipedia look, a dark theme also has multiple advantages (more modern design, less light in the reader's face, better autonomy for the battery of the device used).
Wiki Usage
This is more of a statistical question for us to get more info on how you use the wiki. Dear lurkers out there, this one is for you ;)
Editing the wiki
We noticed that a lot of people use the wiki to look up information they need, however much fewer people actually take the time to edit articles and add their own knowledge on the platform. We were thus wondering whether this is because people are not sure of what to edit or how they can do it.
Urgent: highly controversial material
This is a really serious matter, we would be grateful to get your input on this ASAP.
What's next?
In hindsight, this year has probably been one of the weirdest ones we all have experienced so far. However, that won't stop us from making 2021 just as weird: Our next featured game is Slime Suckers!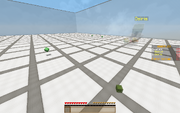 Yes, we could have been reasonable and choose a game which everyone is familiar with. But where's the fun in that? Since you might appreciate a completely arbitrary (but real!) Mineplex minigame once in a while, have yourself a merry Slime Suckers. Also, since this has mostly gone unnoticed: While the original version was abandoned, the Mineplex Development Team has decided to add this to the 2020 April Fools Lobby!
Finally, for the even more exciting news: We are giving away TWO WINTER PACKAGES to you, our readers! One contains a rank upgrade*, the second features a Frozen Chest**. To take part in the Rank Upgrade giveaway, simply leave a comment with your IGN here.
To enter the raffle for the Frozen Chest giveaway, hop on our Discord server at https://discord.gg/RDRdr88 and check out the announcements channel!
Aaaand that's it for today! From all of us here at the Wiki team, we wish you a happy new year. See you in 2021 :)
If you have any other suggestions for the newsletters, or you want to share other thoughts, make sure to leave a reply here.
Thanks!
Both giveaways will end on January 10. The winners for both raffles will be contacted through Discord, or alternatively on their Wiki message walls.
*Item for Java edition only. Rank Upgrade refers to permanent ranks (Hero-Eternal) only. You may exchange this prize for any Mineplex item of $5 value, or less.
**Item for Java edition only. You may exchange this prize for any Mineplex item of $3 value, or less.