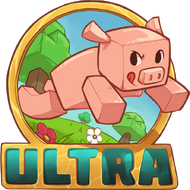 The Ultra rank, also simply known as Ultra, is a premium rank that was made available on Mineplex on June 27th, 2013, the same date when ranks were introduced. Ultra rank can only be purchased as part of the Mineplex Starter Pack which sells for $14.99, as it is the first premium rank there is no rank upgrade from default to Ultra. Compared to all other current ranks, Ultra has the fewest benefits.
Benefits
Current Benefits
All Member benefits
Blue Ultra Tag
1 Mythical Chest monthly reward
Priority access to servers (removes in-game advertisements)
50% more Treasure Shards after Games.
Join full servers
Removed Benefits/Aspects
Monthly price of $19.99.
7500 Coins monthly reward.
Gem earnings for a minigame doubled.
Access to Premium Servers.
Exclusive access to Beta Test Servers
Individual Ultra ranks for a game; not a universal Ultra rank.
30 Gem Boosters.
Apply for staff.
Disable the 3-second chat delay.
Changelog
Main article: Updates
April 1st, 2020
Ultra is removed from the "Ranks" section in the shop, the only way to purchase it is with the Mineplex starter pack.
October 3rd, 2014 - Friends, Ranks, Map
Ultra and Hero ranks now receive monthly bonuses.
Ultra has a 25% more chance to find Game Loot.
September 16th, 2014 - Ranks, Leaders, MS
Announced the selling of permanent Ranks permanently.
Lifetime and Subscription rates are now almost completely identical.
Altered Ultra benefits (see above).
September 13th, 2014 - Tournament and Ranks
Announced the selling of permanent ranks for a limited time.
July 18th, 2014 - Ultra for $4.99!
Announced the selling of monthly Ultra rank for $4.99.
December 21st, 2013 - Christmas Time
Announced 50% sale of ranks.
Removed individual game Ultras.
July 21st, 2013 - Mineplex Store Sale!
June 27th, 2013 - Big News
Introduced new rank Ultra.