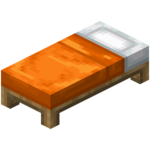 This minigame is unavailable.
The reason why is as follows:
The game was not well-liked by testers, some issues.
. For the successor to this minigame, see
Dragon Escape
.

Undead Escape is a Removed minigame. It was one of the original minigames on Mineplex. It was initially tested with a large batch of other games around August 2013. It, along with most of the games tested in its batch, did not make it past the testing stage. However, some games tested during that time still exist today or have "taken a new form", such as Castle Siege and Super Spleef .
Summary/Aim of the Game
This game has an identical aim as Dragon Escape, as Dragon Escape is the successor to it.
The main differences are:
Instead of a dragon chasing the player(s), there is a giant zombie walking on a ground below
There are an infinite amount of leaps, however the cooldown is far longer than that of Dragon Escape's
All maps involved jumping around on pillars and bumpy "terrain" rather than actual parkour (since it never left testing).